---
Nucleotide Amino Acid Alignment (NAP) Documentation
---
Main Help Page
Introduction
This program is a Java interface to the nap C program. The NAP program computes an optimal global alignment of a DNA sequence and a protein sequence without penalizing terminal gaps. NAP handles frameshifts and long introns in the DNA sequence. It delivers the alignment in linear space, so long sequences can be aligned. The experimental results demonstrate that NAP is a sensitive and powerful tool for finding genes by DNA-protein sequence homology.
NAP Input Windows
This is the window that appears when the NAP Java User Interface is launched: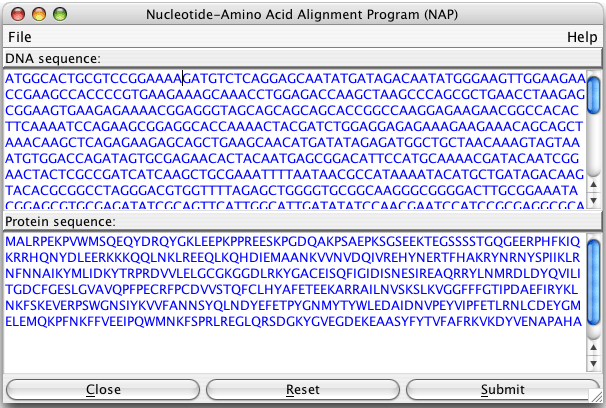 Copy and paste a DNA sequence into the DNA sequence area
Copy and paste a Protein sequence into the Protein sequence area
The Input Options will be shown in the External Application Preferences window after clicking "Submit" button or "File->External Application Preferences" menu.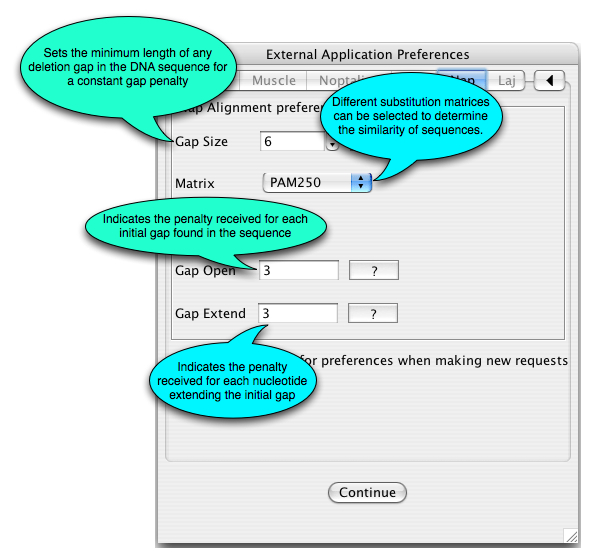 Enter a Gap length for const penalty, or use the default
Choose a scoring matrix
Enter an open penalty or use the default
Enter an extension penalty or use the default
Choose to compare both strands or only the plus strand
NAP variables:
DNA sequence: The DNA sequence to be aligned
Protein sequence: The Protein sequence to be aligned
Gap length for const penalty: The minimum length of any deletion gap in the DNA sequence receiving a constant gap penalty. Default is 6.
Scoring matrix: BLOSUM62 or PAM250 matrix. Default is PAM250.
Gap open penalty: The gap open penalty. Default is 3.
Gap extension penalty: The gap extension penalty. Default is 3.
NAP Output Window
Once you press "Continue" button, a new window will open to display your results.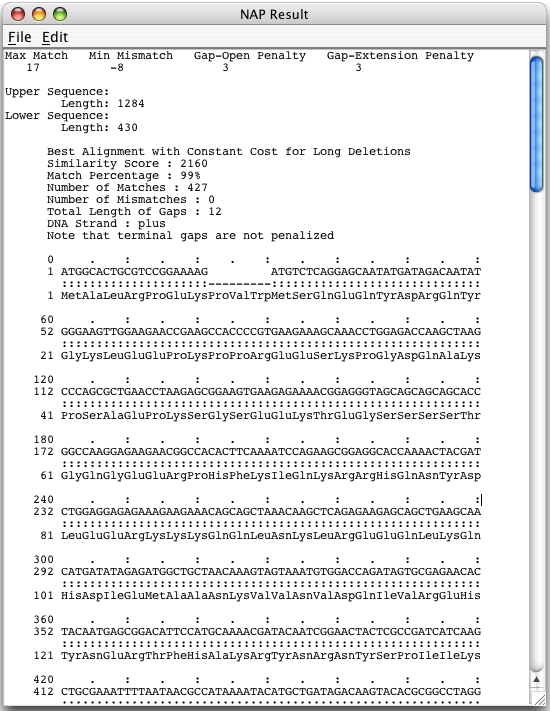 ":::" means perfect match; "—" means no match.
To run another NAP calculation, just press the "Reset" button and follow the above steps again.